This article gives you an idea of some mountain property options available for your clients, with a wide price range to choose from.
When the worst of winter has arrived, many people embrace it and head to destinations where snow prevails – the mountains. Property that is nestled on a mountain cleft can come in many forms; from a high-energy, trendy resort to a quiet villa shrouded in peace and quiet.
Buyers are looking for locations that make them step back from their routine and either play in the snowfall or appreciate it through a frosty window. No wonder a mountain property is alluring for buyers who love to connect to nature.
Invest in real estate in the mountains
Buying property in the mountains can be a great investment. Real estate prices are rising, especially currently, as people are re-thinking their lifestyle and moving out of crowded cities to peaceful locales with more space, privacy, and proximity to nature. Buyers will benefit whether the property is used as a vacation ski home or is rented – or both!
There are many options for real estate located in the heart of a mountain range. Take a look at some of the search results on our Properstar portal, designed specifically for real estate in the mountains.
Swiss Alps
This stunning natural feature of the county offers unprecedented skiing and winter activities. Unique to Switzerland is an enormous diversity of landscapes and nature in a relatively small area. As expected, the price tag to own real estate at this world-famous destination is quite steep.
Resorts in the Suisse Romande
Resort property in French-speaking Switzerland has a price range that should appeal to different buyers and their budgets. Verbier is the most renowned and expensive resort, however, property in Crans-Montana, lists at less than half the price per square metre of Gstaad or Zermatt, and there are some well-built new developments available.
Champéry
The Champéry resort has 37 ski lifts that are suitable for beginner and intermediate skiers and terrain park enthusiasts. Property here is priced lower than most other resorts in the area. CHF 1.2M will secure a two-bed apartment, but for CHF 2M your buyer can purchase a small chalet; the price of a studio apartment in the top resorts.
But if your client is budget-conscious, real estate on the French side of the Alps is often priced lower and there are no restrictions on property ownership, as found in other Swiss locations. For instance, you'll get about twice the property for your money in Megève that you would in Gstaad, though Courchevel 1850 (the super-lux part of Courchevel) is the second most expensive of all the Alpine resorts.
Courchevel Le Praz
Courchevel Le Praz, a small, traditional French village is located next to a lake. In the heart of the village, a chalet could cost EUR 1M, but prices increase for outlying chalets with expansive views which can go as high as EUR 4M.
Agents, look for resale property at these French resorts, as building permits are difficult to obtain and new supply is limited.
This is good news for your buyers, as this protects prices and ensures that their beautiful mountain home isn't surrounded by huge developments in the future.
The French Pyrenees
Although still beautiful, property here offers a very different environment from the Alps.
Bagnères-de-Luchon
It would be hard to find a better example of city elegance and exceptional skiing as is found here. Your clients can enjoy coffee on the sunny terrace of a chic French café, then board a cable car and be whisked up the mountain in just eight minutes.
Small, simple apartments here cost as little as EUR 50,000, and a small house 5 minutes or so from town could cost EUR 100,000. For investors or developers, an expansive three-bedroom property with outbuildings that could be developed into a business or guest accommodation, is currently on the market for EUR 327,000.
Andorra
This tiny principality tax haven between France and Spain and is worth watching. With three-bedroom flats around EUR 500,000 and houses starting around EUR 1m, Andorra has three good ski areas and some excellent summer hiking trails. New developments are starting to appear here, like Les Terrasses in the Grandvalira ski resort, and the White Angel development in the capital, of Andorra la Vella, with 3 beds priced at around EUR 600,000.
Colorado, USA
Colorado is the ski state of America and has a range of options for your buyer. The state has also made real progress on their recovery since the Covid lockdown in 2020. Aspen , Park City and Vail have few properties under $2M and real estate here is targeted to the ultra-high net worth market.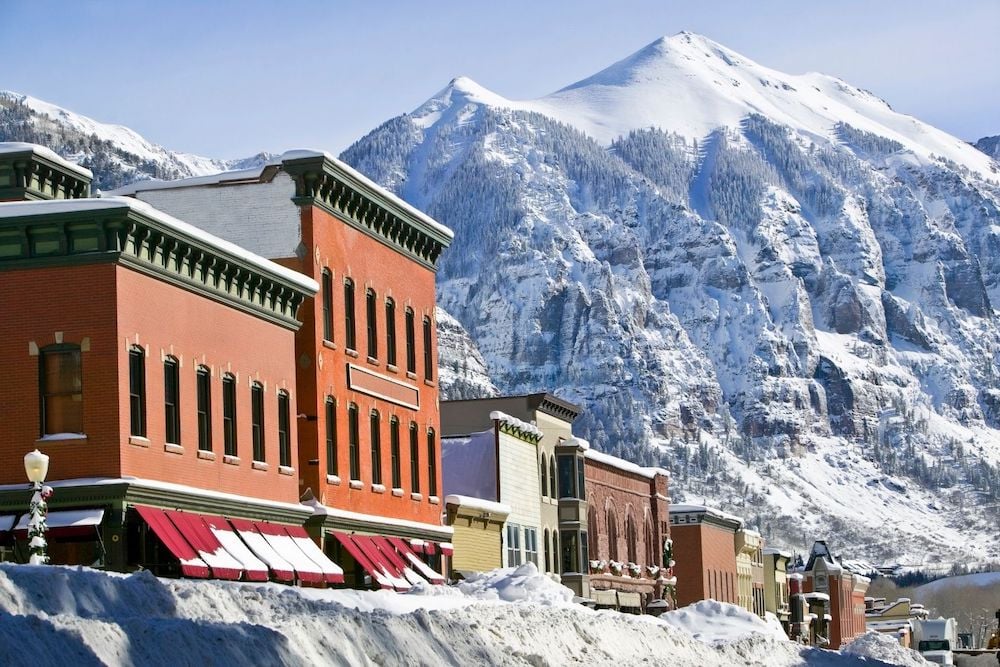 Telluride
Telluride is worth a look if it is important for your clients to get a more space for less. Mountain Village is currently priced at just $65 per square meter. Apartments are priced from $330,000 for smaller properties in older condos, and up to the $2M range for a large 3 bed, 3 bath property. At the top end, a few select properties reach the $10M mark.
Breckenridge & Winter Park
The average property comes in around $850k and $500k respectively. Breckenridge, one of the most visited ski resorts in the western hemisphere, has a great historic district, with great shopping and a gourmet restaurant scene. Winter Park is the closest major mountain destination to Denver (just 67 miles away.) Buyers will feel remotely tucked away in this high-country corner of the Rockies.
Properstar Mountain Real Estate
Visit our selected mountain real estate destinations on Properstar.
Selling a property in the mountains?
There's no denying that destinations like mountain resorts are in high demand as buyers are seeking a place where they can pause and take notice of the beauty of their surroundings. Use this opportunity to boost your sales with our Luxury or Elite listing promotions.
Become a Global Agent and rise to the summit of increased sales.
Questions? We invite you to reach out to us or open a chat with us on listglobally.com.
Contact us
If you are a Real Estate Professional or property seller and you would like to expand your international network, advertise, or engage with international property buyers, contact us and we will help get you started with your enhanced global marketing strategy.